Previous Years' Highlights
2016
Wed 21 Dec: Santa run
"Thank you Euan B and Elizabeth R for organising the Santa Run for us, and mince pies. And Lynn H for the artful prizes" (Anna H)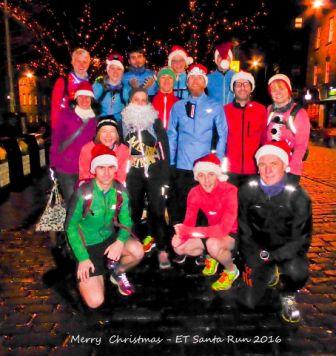 Sat 10 Dec: Christmas Swim Gala and Social Evening at Akva

"A thank you to Dechlan, Ciara and Pete for organising the Swimming Gala, and Keira and Jennie for organising the Xmas night out!"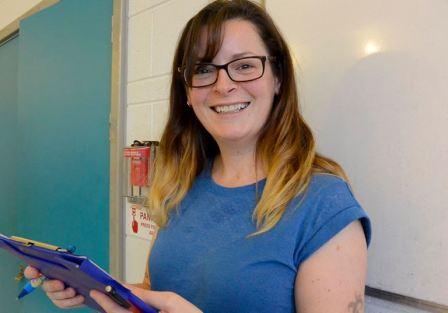 Sun 27 Nov: Congratulations to ET stalwart Gavin Calder who has been elected President of Triathlon Scotland.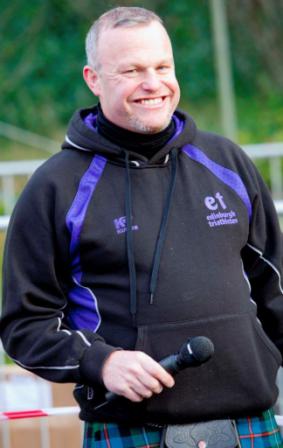 Sun 13 Nov: AGM. Links Hotel, Bruntsfield. Thank you to everyone for coming to the AGM and contributing to the discussion on the development plan in particular. The festivities included:
Free Yoga session
Free gourmet food
AGM including

appointment of the new communications director
Sat 5 Nov: Club Ceilidh at Southside Community Centre, Newington.

21-23 Oct: ET training weekend at the Bridge of Earn. "a huge thank you to coaches Richard and Euan for another fantastic club training weekend, organised by Mike B" (Anna H)

12th Oct: Inverleith 3k run TT (results)
Tue 4 Oct: Pedalhouse spin sessions re-start. See emails for info.
1/2 Oct:
24/25th Sep:
Tue 20th Sep: Hilly 10ml bike TT (cancelled)
17/18th Sep:
32nd in the Aquathlon, 51st in the Sprint in the World's at Cozumel for Doug MacDonald

 Eyemouth Sprint: AG 2nd, and enough for an overall 'Border Series' AG win for PaulG
10/11th Sep:
8th Sept: Orienteering results from Braidburn Park

6th Sept:  Silverknowes 10ml bike TT (results)
5th Sept: ET Club Champ standings
3rd/4th Sept:
"The big race of the weekend was the ETU Middle Distance Championships in Austria where Elizabeth R and Eilidh Y were competing.  Eilidh had a fantastic race to finish 11th in her age group whilst Liz continued her outstanding season to get a silver medal!  Amazing results from both ladies" (Laura F)
Haddington Sprint results with 9 ETs
Bamburgh AG 1st & 3rd for Sharon & Anna
AG 2nds for Patricia A and Paul G at the Borders & Bridges Sprint (photo: Paul Buxton)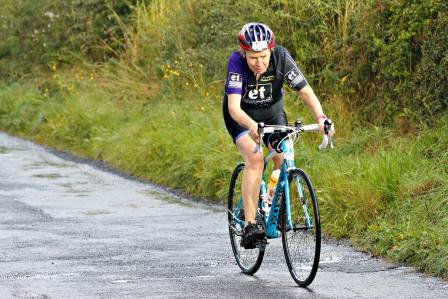 31st Aug: Inverleith 3k run TT (results)
28th Aug: ET Club Champ Race at Lochore Standard (SC) (Results)
"10 ETs competing with 4 age group top 10 finishes.... A pat on the back for Justin H-P who was the first ET over the finish line.  Well done to everyone" (Laura F)
Sat 27th Aug: A rescheduled "Iain Gowans duathlon" as part of the "I am Team GB" celebration (Results)
21st Aug: ET Club Champ Race at Aberfeldy Middle Distance (SC)
Tue 16th Aug: Hilly 10ml bike TT
13/14th Aug:
Liz R qualifies for Euro 2017 AG with an AG 2nd, with Kirsten C getting an AG 3rd at Liverpool.
AG 2nd for PaulG and AG 3rd for Mike B at Kelso
6/7th Aug:
Euan B gets Euro qualification with an AG 4th in the National Cross Triathlon Champ at Aviemore, and John-Sebastian S was 1st in his age group in the short distance race.
Club Champ current standings.
2nd Aug: Silverknowes 10ml bike TT (results)
30/31st Jul:
AG gold for Joan A in the Beastie Triathlon
"Alpe d'Huez Long Distance triathlon on Thursday. Sharon T not only completed this very hard race as her first EVER triathlon, she came second in her age category!" (Laura F).
23/24th Jul:
ET Club Champ Race at St Mary's Standard, "11 ET competing!  We had some fantastic results from the race Matt G was 2nd MV and first ET, Eilidh Y was 2nd FV, Lynn H was 3rd FSV and there were some great times from the others who were racing" (Laura F).
"Inverurie Sprint triathlon on Sunday.  For his efforts Calum L came away with a 3rd place finish in his age category and a top 10 finish overall.  Mhairi P also had a fantastic race finishing 2nd senior lady and 4th lady overall" (Laura F)
20th Jul: Results from ESMC 750TT pool swim with deep water start and sighting every 6 strokes
19th Jul: ET Hilly 10ml TT bike
17th Jul: Justin H-P sub-13 at IM Bolton.
16th Jul: "Off-piste" swim training at Ainslie Park with David Carry.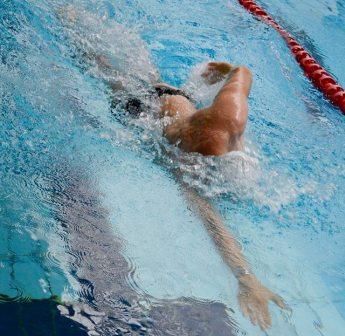 10th Jul:
ET Club Champ Race at Monikie Sprint (SC). AG golds for Arnott K & Liz R (Results)
Fiona M 2nd overall at the River Spey Standard
2nd Jul: ET Hilly 10ml TT bike (results)
30th Jun: Congratulations to Sharon G, who has just passed her Level 2 triathlon coaching qualification.
29th Jun: ESMC 400m TT swim (results)
21-26 Jun:
19th Jun: ET Club Champ Race at Lochore Sprint..."where we had a great turn out of 15 ETs. We had five top 10 finishes and pick of the bunch went to Fiona M... who landed 3rd in her age group." (David F)
11/12th Jun:
8th Jun: 1.5/3km run TT (results) and a course record.
7th Jun: Silverknowes 10ml bike TT (results)
4/5th Jun:
28/29th May:
Fiona M qualifies for 2017 Euros
ET Club Champ Race at Knockburn Aquathlon (SC) & these are the current standings in the ETs Club Champ
23rd May: 800m pool swim TT (results)
22nd May:
15th May:

8th May:
A brilliant AG gold from

Eilidh Y

in the ETU Powerman Long Distance Duathlon, Copenhagen
Some good ET results from Selkirk Standard, with podium finishes from Fiona M, Lynn H & Derek I. (Photo: Karl Z)

4th May: ESMC 750m swim TT (results)
3rd May: Silverknowes 10ml bike TT (results)
23rd - 30th Apr: Mallorca warm weather training
A brilliant week, with a re-assuring range of abilities. A big thank you to organisers, 'advisors', and helpers of various kinds. Photo: Sharon G.

27th Apr: Inverleith run TT (results)
24th Apr: Arnott K's AG win at the St Andrew's Uni sprint.
19th Apr: Congratulations to Richard Foxley, our latest Level 3 Triathlon coach.
17th Apr: A good turnout in purple at the Galasheils Sprint (results), with an AG bronze for Lynn H.
12th Apr: Weekly Pedalhouse sessions continue (check emails)
9th Apr: Start of Saturday morning Beginners' cycling group (see emails)
27th Mar: ET Club Champ Race at Stirling Duathlon (SC, SOTD), and a bronze for Mike B. Scot Champ results & Sprint results.
23rd Mar:
Well done to Derek Ireland, our latest level 1 coach.
Inverleith Time trial (results). "We run this 1.5/3 km TT at Inverleith Park every 6 weeks, so it's a good opportunity to check how your running is progressing as we come into race season" (Liz R)
19th Mar: ET Club Champ Race at Tranent Sprint, with 20 ET finishers, 2 Gold, 2 Silver and 2 Bronze. Well done folks (results)
11 Feb: "Food on the Run" with Freya Ross, Commie Pool 18:45 (see emails for more)
10 Feb: Inverleith run TT (results)
23rd Jan: Iain Gowans duathlon. Congratulations to Mike B & Morag, and more results.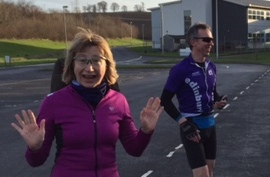 12th Jan: Next block of Pedalhouse spin sessions begins. See emails for latest.
9th Jan: Iain Gowans's duathlon postponed owing to icy conditions. Thank you to Gavin for the sagacious early morning warning.
3rd Jan: Anna H's Pentland Hills run/jog/walk/food. See emails/Facebook for more.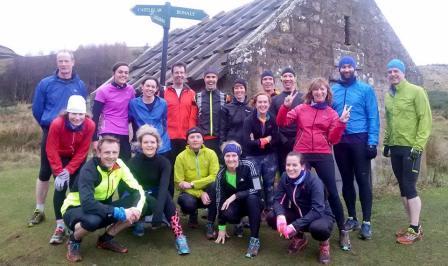 1st Jan: Edinburgh Triathletes' New Year's Day Triathlon and results (photo: Anna Henly)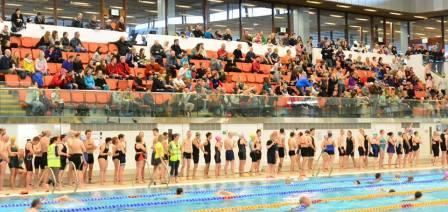 2015
12 Dec: Richard's bike skills sessions continue with "draft-legal racing.... next season and what the best tactics..."

7 Dec: ET Club Champ races announced for 2016
5 Dec:
1330-1600: ET club swim Gala . Weird events and strange rules to enable all to 'compete' at the same level. "A huge thank you to Dechlan who organised a superb swimming gala... and to his slick team of whistle blower, turn judge, point scorer... Swimmers with, and without, a swimming background took part in a lot of serious (!) races, followed by an impressive and imaginative number of relay races" (Anna H).
1900: Informal Chiristmas drinkies at Grassmarket. See emails for venue.
29 Nov: AGM at Minto Hotel (see emails for more info)
1730-1830 Yoga - FREE
1830-1900 Food - also FREE
1900-2030 AGM - also also FREE
28 Nov: Gavin C's tumble turn class before the main swim session at Delakeith - see emails. 
24 Nov:
"Congratulations to ET's latest coach Sharon Grimshaw who passed her Level 1 Triathlon coaches' course. Well done Sharon!"  (Anna H)
Second spin block (of 6) underway at Pedalhouse. Check emails for postponed dates over the holiday period.
21 Nov: 0700-0800 Richard's 'Diving for Beginners' before the main session at Dalkeith. See emails.
"Excellent class thank you Richard and thanks to Anna for organising" (Shaz).
14 Nov: An excellent 8hr Tollymore Trail Marathon (40miles) from Carrie. (Details)

6 Nov: Congratulations to Mike Allan, with a bronze in the Scottish Legend rankings. ET was 4th club.
24 Oct: ET 25th Anniversary Dinner & Ceilidh, with a huge well done and thank you to Keira M & Jennifer B.  Loads more pics on Facebook, of course.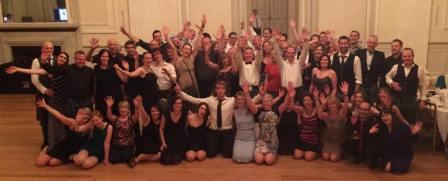 23 Oct: With a big thank you to Heather M, the Autumn 2015 Tribull (1MB pdf) is now available (including race reports and other goodies).
21 Oct: Inverleith TT run (results)
17 Oct: Richard F's next session in his cycling skills series, all about group riding this time, (see emails).
16 Oct:
Club Champs announced as Eilidh Yates & Joe Tomaney (results)
Diving lessons start ( see emails from Ciara)
13 Oct: The first of this block of weekly spin sessions at Pedalhouse, (see emails for details).

11 Oct: ET club championship race: Stirling Aquathlon (results)
"Well done to the 3 ET athletes who competed in Stirling Aquathlon today. Joe Tomaney finished 4th senior, Juan finished 2nd MV and Andy Peakman finished 4th MV. Impressive results!" (Keira M)
9-11 Oct: Training weekend at Bridge of Earn, (more pics on Facebook).

"...thank everyone who helped make the training event in Bridge of Earn such an awesome weekend. Richard and Gavin who treated us to a full on swim camp with three huge swim sessions, including filming, followed by in depth analysis of our swimming, above and below the water. As well as a cycle ride, a run and a duathlon, diving practice and some tasty pizzas and curries at the Indian restaurant.  Also beer and bubbles, and I think some watched the rugby! Also big thank you to Mike who organised the weekend for us" (Anna H).
7 Oct: Stewart-Melville swim TT (Results)
3 Oct: ET club championship race: Foxlake Cross Sprint (Night event)
22 Sept: Silverknowes TT (Results)
20 Sept:
World AG Champs Chicago: ETs were Kirsten C, Keira M, Phil P-B,  and Joe T. Brilliant!

ET club championship race: St Mary's Loch Standard. Gongs for Liz R, Matt and Eilidh Y. Also debuts from Aeneas and James R. Well done folks, and with 2 races to go in the ET Club Champs, the leaders are... 
5 Sept: Gullane Beach Triathlon. More...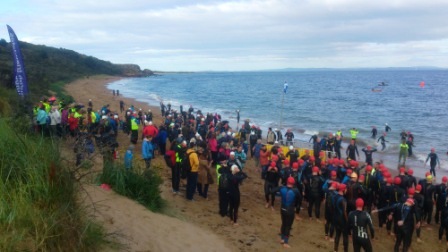 1 Sept: Carbury Hill TT
30 Aug:
ET club championship race: Haddington Sprint
A 41hour stroll on the Ultra Trail du Mont Blanc for Karl Z. Wow!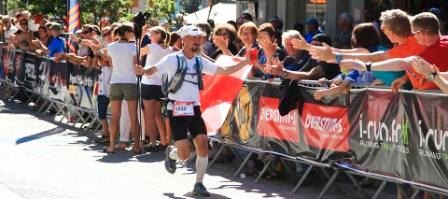 20 Aug: Silverknowes TT (Results)

19 Aug: Kirsten C and Karl Z's transition/duathlon training (Threipmuir)
"Huge thanks to Karl and Kirsten for coaching an exciting open water session at Threipmuir ... in  rougher conditions than many of us have experienced in the sea. Also to Al for providing kayak support..." (Anna H.)
16 Aug: A gold for Liz R in the ET club championship race at Aberfeldy (Also Scottish Middle Champs) Results...

15 Aug: Richard F's bike skills sessions begin (Dalkeith)
12 Aug: Kirsten C and Karl Z's transition/duathlon training (Crammond)
6 Aug: Carbury Hill TT

26 July:
Bamburgh Middle distance - Gold, silver and bronze for the ladies. Well done Liz R, Lynn H, and Sharon G, (Results).

Liverpool (British Champs) - bronzes for Keira M and Kirsten C, (results).

21 July: Silverknowes TT  (Results)

19 July: IM UK produced a bronze for Scott B, and finishes for Anna H, and Sandy L (with 11:09!). Also an impressive finish from Iain S in IM Switzerland, along with Nicola D, Neil C, and Colin.
13 July: Last of the extra (late) Monday swim sessions
12 July: Event cancelled Culzean Sprint (Cross)
10 July: Congratulations to Doug MacDonald, up 4 places from last year in the European AG (Geneva).

7 July: Dalkeith Hilly TT bike (results)
1 July: Inverleith TT run (results, and a course record from Liz R)

29 June: Postal swim results and a bunch of medals for ETs.

24 June: Additional articles added to the 'Memorium' page, on Andrew and Dougie.
21 June:
Tribull (Spring 2015 now available)
ET team of Nicol Fraser, Elizabeth Richardson & Euan Batten come 9th in Seven Hills Of Edinburgh, with Liz taking Bronze in overall female.
ET club championship race: Knockburn Sprint (also Scottish Champs)
"Well done to all the ET's who competed at Knockburn... Mike Allan, Joe Tomaney Doug McDonald and myself. Weather was great for a change no frozen feet or hands and Mike just missed out on podium coming fourth in his age category" (Mike Brown).
16 June: Silverknowes TT
14 June: ET at Bruce sprint (Lochore Meadows)

10 June: ET are now registered with Ironman.

9 June: Carbury Hill TT (TT page,)
7 June:
4th ET club championship race: Peebles Sprint. Joe T is overall winner. (Results)
A bronze AG at Stirling for Zoe Ross on her sprint debut(results)
Congatulations to Al S on escaping from Alcatraz (results)
31 May: See emails and charity page for details of Anna H's Pentland runs and charity events.

26 May: Silverknowes time-trial (see emails and TT page, start-time 1900hr prompt)
Weekly: Threipmuir (and other) open water sessions have started...  check your emails.

24 May: Liz Richardson wins GOLD at Rimini ETU Challenge Middle Distance Triathlon European Championships  in 05:22:28 (More...)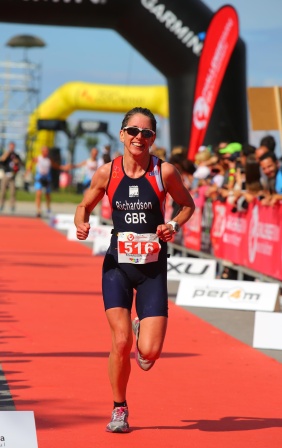 24 May: The third ET club championship race was Strathclyde Park Standard.

23 May: A lovely bronze for the ET mixed team at the Scottish Team Relay Championships.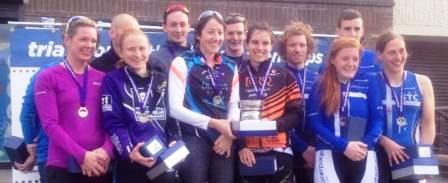 20 May: Leith Victoria Swimming Pool early morning sessions begin, see 'Training' page and emails for more info.
19 May: Silverknowes time-trial (might be monthly!) Results...

18 May: Last spin session at Pedalhouse, but discounted sessions continue on an individual basis, see emails for details.
10 May: The second scoot round the scary Seven Hills (see Laura F's emails).
6 May: Inverleith Park timetrial (results)
25 Apr - 2 May: Warm weather training in Mallorca.
19 Apr: The second ET Club Championship race was the Ayr Duathlon.

12 Apr: Liz R, Scott B and Laura F take first 3 places in the test run of the Portobello (Figgate) Parkrun. Well done to organiser Ciara Webb. More...
6 Apr: A wee group jog round the Seven Hills.
31 Mar: Last session of the first spin block at Pedalhouse. But it continues... check emails for news.

29 Mar: Stirling Duathlon was the first of the ET Club Championship races
21 Mar: Tranent sprint was not an ET Club Championship race this year, but it's local. Well done in particular to  Eilidh Y, Arnott K,  and Phil P-B. (More...)
15 Mar: News from the deep south as Michael Walsh collected an age-group gold at the Longleat half marathon with 1:38:58.

11 Mar: Inverleith Park timetrial results (thank you Karl Z and Lynn H)

7 Mar: Bowling evening at the Corn exchange. "Huge thanks to Keira M and Jennie for last night's bowling extravaganza and well done to Craig M for his excellent performance". (GC)

A super night. See emails for more details.

3 Mar: A brilliant 12 hour blast on the turbo-trainer from Nicola Murphy for the Sick Kids Friends Foundation. More...
25 Feb: Charity 1hr 'Postal' swim with 15 participants swimming 47km. Thank you Liz R for  organising this. See results & blurb...

22 Feb: Charity 'bring and buy' sale in aid of Cancer Research organised by Sharon G & Kirsten C raising over £800 (and counting). (More...). Photo by Juan Ramon Hidalgo.

21 Feb: Tumble-turn masterclass (part 2) Another 11 thank-yous to Gavin C for the follow-up masterclass on tumble turns. We just need to practise now!
8 Feb: ET's Troika of Mike Brown, Craig and Heather Matthews competed (more...)
5 Feb: Tribull 2014 now available

1 Feb: Gullane entries opened.
27 Jan: 10 week spin block started at Pedalhouse
18 Jan:
17 Jan: Tumble-turn masterclass "Thank you Gavin C for an exciting masterclass on tumble turns this morning in Dalkeith. 18 of us tumbled out of bed this frosty morning and into the pool at 07:00. Two were so excited  to learn new swimming skills that they got into their car at 05:30, instead of 06:30!! There will be a follow-up masterclass, date to be announced" (Anna H).
14 Jan: Inverleith Park timetrial (results)
10 Jan: Dalkeith 400m swim TT (results)
4 Jan: A good turnout for a run in the Pentlands (thanks Anna).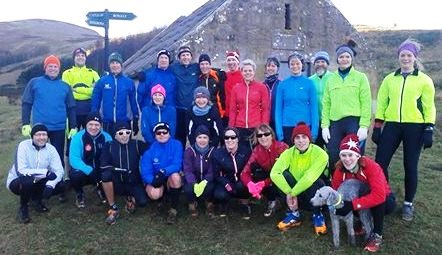 3 Jan:  ET's home-baked Duathlon after the Dalkeith morning swim, (results).
1 Jan: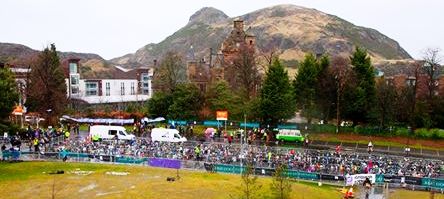 New Year's Day Triathlon, Edinburgh, (including Triathlon and Kids Duathlon results). Big thank you to John Whittaker and the organising team, sponsors, volunteers, supporters, competitors, venue and staff for creating a superb event. (Photo above: Anna Henly)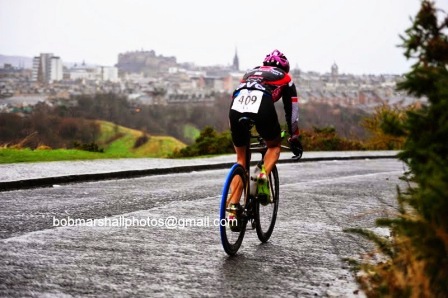 "Massive congratulations to Francesca Osowska (our club secretary) on her OBE in the New Year's Honours list for her work on the Commonwealth Games and sport at the Scottish government" (Gavin C).
Triathlon Scotland confirm 7 championships events for 2015 (see 'Races')
Internal ET Club Championship races (see http://edinburghtri.org/concrete5/index.php/races/)
2014
13 Dec: The Winter ride-out to Gullane after the Dalkeith swim session was postponed until January owing to tricky weather. Instead, there was a group run around Dalkeith Country Park.

6 Dec: A big day for ET enthusiasts, and thank you to...
David Carry who did us proud with a masterclass in tumble-turns and diving at Dalkeith. Following on from Richard and Gavin's session the previous week, ALL the squad were diving off the boards. Awesome result.
Scott Balfour, coaches, co-ordinators and helpers (what would we do without them?) for the Swim Gala. 
Mike B and Keira for the Christmas bash & fringe events. See emails and Facebook for more...

29 Nov: A big thank you to Richard F and Gavin C for the "Diving for Dummies" class at Dalkeith before the main swim session. 

26 Nov: A good turn-out too, as it turns out, for a turn-about or two (1.5 km & 3km) of Inverleith Park for the time-trial (run). Results...

20 Nov: Edinburgh Evening News article on Arnott Kidd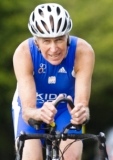 16 Nov:
Triathlon Scotland Legends Rankings...
Gold for Mireille Captieux (Standard distance)
Gold for Eilidh Yates (OW)
Bronze for Eilidh Yates (Cross)
We now have an entry page on Club Sport Edinburgh.
Belated congratulations to Sandy Legget on his 10:32 at the Outlaw in July, and Gold at Selkirk on 4th May for Mireille Captieux.
11 Nov: A well-attended AGM at the Minto (including run, eats and a draft Tribull).
2 Nov: Tweet from Triathlon Scotland...
October
17-19 Oct: Training weekend
A huge thank you to Mike Brown for organizing a brilliant ET Training Weekend at Bridge of Earn, and to Gavin and Richard for delivering an inspired coaching programme in such a short space of time.

5 Oct: Congratulations to Joe Tomaney on a sub-12 debut in Barcelona.
September
27 Sept: Well done to Anna Henly for her Mallorca IM in Alcudia.
14 Sept: another podium finish for Eilidh Yates at St.Mary's Loch with Silver overall and Age-group Gold. Meanwhile, Lynn Hanley is trying to keep her age-group bronze a secret.
6 Sept: Gullane Triathlon. ET's Rae Captieux gets Gold overall, and Age-group too of course. Eilidh Yates has Bronze with Age-group Silver. More results. (Photo: Anna Henly, 2014).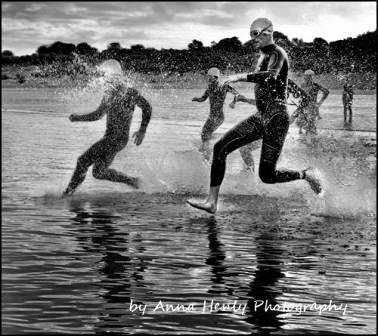 1 Sept: http://www.bbc.co.uk/news/uk-england-cornwall-28983049 for a link to the news of the verdict over Andrew's death.
1 Sept: The Club Champs listing has been updated following Haddington.
August
31 Aug: Well done to the ETs who performed so well at Haddington and also those members who were so supportive of each other around the finish. Particular plaudits to Mike Allan and Phil Parr Burman coming second and third respectively in their age group and to Fiona Milligan coming second in hers. Also worth a mention is the fact that Jane Rahil knocked well over 2 minutes off her swim time from last year.
30 Aug: Good luck to Graeme Rae at his wedding. Sure we'll see you back in the pool soon.
30 Aug: Thanks to those ETs who gave their time to help at the ERC tri stars. Seemed like Jo Phillips and her team ran a great event, and the first-aiders only used 2 plasters.

24 Aug: Continuing Liz's winning streak our mixed relay team came first at Perth's Relay Wild Triathlon.  The team was Derek Ireland, Liz Richardson, Mike Allan and Laura Forrester.

Liz's famous Trumpets are now on the members page.
We have had a bit of club Ironman success in August:
Simon Nicholls at Ironman Kalmar, Sweden in 12 hrs 12 min
James Dunn at Ironman Copenhagen, Denmark in 10 hrs 57 min
17 Aug: Podium finishes for Liz and Scott at Aberfeldy, (results).
15 Aug: Sarah Profit's "Prof's Olympic Legacy" featured 15 sprint triathlons in 15 days and used Warrender Pool for the swim. More details on www.profsolympiclegacy.com and www.justgiving.com/profsolympiclegacy.
10 Aug: Another age-group gong for Mike Allan (Westhill was the culprit this time)
John Whittaker's Swissman 2014 (Report) and Matt Goode's Kitzbuehel 2014 (Report)
OW Aquathlon results.

July
27th: David Forrester and Louise's big day. Congratulations!
27th: Outlaw IMs for Lynn Hanley and Steve Law
27th: Silver Super-Vet at Inverurie for Mike Allan. Results
Bamburgh on 26th with an adverse current on the swim for Liz Richardson who then went on to win Bronze Age-group.
Scott Balfour's usual Gold Age-group at IMUK on 20th. What a star!
An age-group silver for Mike Brown at Monikie on the 13th.
Age-group win and 4th overall for Jon Reilly at Ullswater on the 12th. "It was a great event enticing  nearly 400 athletes to the fairly mild waters of Ullswater Lake in the Lake District. It was a great race that I would encourage other members to get involved with next year, Ullswater is only 2.5 hours away from Edinburgh, closer than many Scottish races!" (Results and Officials Report).
June
A sub-12 IM from Nicola Dudley in Austria on the 29th - terrific!
Well done to John Whittaker on his successful Commie PB-with-Baton on Monday 16th. (Photo: Anna Henly), and the Swissman IM on the 21st.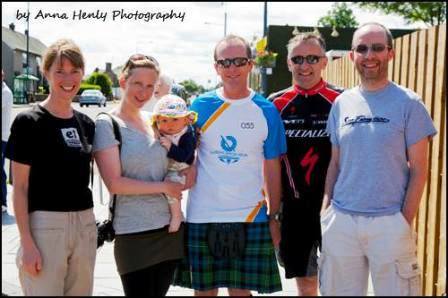 June 15th: Lochore Bruce triathlon results and Tristar results. Well done to all those who raced at Lochore on Sunday.  A good day, if a bit muddy. Notable results include Scott Balfour who (again) won his age group and Barbara Davis who was second in hers.
Results from the two other ET club target races this month:
Saturday 14th June Memorial Ride
It is almost a year since the first of the tragic accidents involving Andrew, Dougie and Stephen. Mainly thanks to a lot of work by Jim McGoldrick we now have a memorial bench and several trees in place at Gullane. (Photo: Paul Graham). More...

8th June: Knockburn Sprint (Scottish champs). Congratulations to Keira Murray for winning Senior Females and highest placed ET male Euan Batten and a well done to all other ET's. An excellent well run tough little race, especially the run. Results...
June 7th: Foxlake Triathlon on 7th June: ET's 2male+2female relay team won, and was 4th overall. Also a big thanks to John and the the small team of ETs who helped manage a successful event. Big  cheer to Mandy and Anna who did a twelve hour shift too. It was a fantastic event and we all got suitably muddy on the mountain bike course. Photo (courtesy Jim McGoldrick) of us afterwards before we hopped in the lake to try to wash the mud off.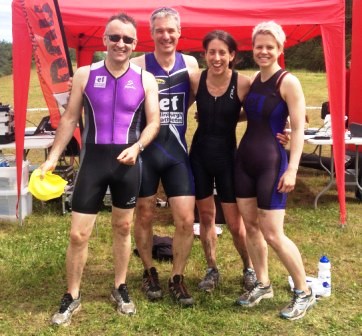 May
May 25th: ET bronzes for Mike Allan and Arnott Kidd at Aberfeldy (Results)
Glasgow 2014 Invitational Triathlon Saturday 24th. ET had a mixed team of four in the invitational event at Strathclyde Park to test the Commonwealth Course on Saturday 24th May. Official / Detailed results. (Photo: Jane Scott)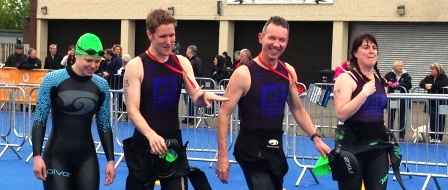 Strathcyde Results of another great turnout at the Club Target race at Strathclyde Standard (Scottish champs) on 18th May. Excellent ET turn out, congratulations to Keira,  third female. Top ET was Joe Tomaney in 9th (although Martin Gore was 6th but competing under ERC we'll let him off) followed by new boy Jon Reilly then Michael Cunningham even though he had a run in with another bike but picked himself up and kept going, what a trouper. Another ET podium winner was Pat Angus who was top vintage female.  An excellent well organised triathlon with superb weather and the water was a balmy 15 degrees. On the swim we had to climb up a ramp onto the pontoon and then either dive or jump back into the water for the second lap. It  certainly made it more interesting and we had to exit the same way, (unless on exiting you don't quite get  fully on the ramp and have to be dragged out!) (Photo: Mike Brown)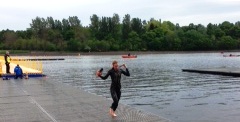 Congratulations to Francesca Osowska and Ian Hill on their IM Lanzarotes on the 17th.

ET team win at Cape Wrath on 17th. Congratulations to Gavin and Laura.
A 10:39 Transvulcania by Karl Zeiner on the 10th.

Apri

l
24-hour sponsored team swim on 11-12th April, organised by Keira. The wet and dry teams produced an awesome 532k of swimming, and over £7000 was raised for charities. Donations can still be made to the justgiving page on http://www.justgiving.com/EdinburghTriathletes. (Photo: Anna Henly).
Steve Law: "The fundraiser was initially put forward to help replace some special needs bikes that had been stolen earlier in the year. Last week I had the pleasure of handing over a cheque for £740 to Saltersgate School at the Dalkeith Campus".
Jean Slater (Headteacher): "The amount you raised was tremendous and ... is a fantastic boost to our aim of getting all our children to be able to access cycling as independently as possible".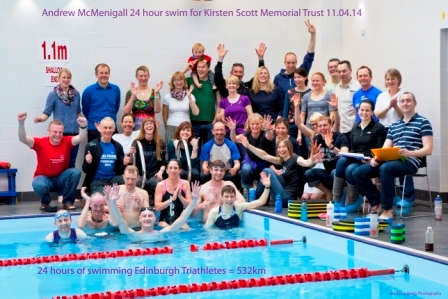 Training weekend Friday 4th - Sunday 6th April. Thank you Kirsten Cameron and team for the organisation and well done to all who went. See ET club emails for more details. (Photos: Sharon Grimshaw).

March
Excellent turnout at the Tranent Sprint with the new ET Trisuit on show. Big shout out to Laura Forrester and Lynn Hanley for age-group wins. See 'Races/Results' for more details and for other target races. Tranent results.
Saturday 15th closed road cycle session 1000-1300 at the Royal Highland Centre. Thank you to Richard for organising this and the 'bike skills' sessions.
February
The 1-hour 'Postal' swim clocked up a total of 58 km (by 18 swimmers) on Wednesday 26th February swim session. Terrific performance, and thank you to organisers and timing/lap counters.

Richard's four Saturday 'bike skills' sessions started on 15th February.
Foxlake results.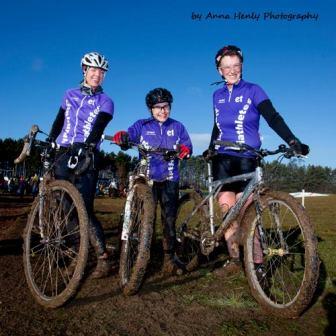 January
A big thank you to two-time World 10 km Open Water champion and Olympic silver medallist Keri-anne Payne and double Commonwealth gold medallist David Carry for the masterclass during Saturday 25th's swim session. (Photo: Greg McDowall).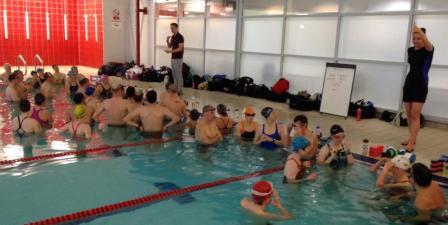 Congratulations to John Whittaker on his well deserved recognition as runner-up in the Clubsport Edinburgh's life time achievement award.
New Year's Day Triathlon. Well done to everyone who took part. Results. (Photo:Neil Bain)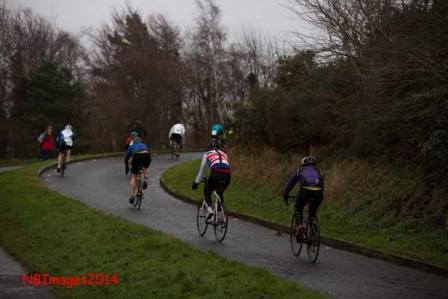 2013
Unfortunately, 2013 will be remembered by Edinburgh Triathletes as one of sadness and tragedy with the deaths of active member and vice-president Andrew McMenigall, founder member Douglas Brown and long time supporter of Gullane Stephen Churcher. All were killed while cycling and the triathlon and cycling communities have been shocked by their deaths. (Photo: Jim McGoldrick)
Congratulations to all who completed IMs, in particular to Scott Balfour who raced again at the ironman world championships in Hawaii this year and Gary Fegan who has qualified for next year. Also to our international athletes competing in ITU world or European championships: Keira Murray, Arnott Kidd, Phil Parr-Burman, and Richard Foxley.
Club champions for 2013 were Phil Parr-Burman and Nicola Dudley.
July: Gullane Triathlon (Photo: Pam McLeod, 2013)