The ET Squad is all about nurturing and encouraging athletes to be their best. Yes, our squad athletes are successful and able to perform at a relatively high level. But you'll not see any egos, drill sergeant style coaching or a high pressure performance first, athlete second culture…those things are just not what we are about.
What we ARE about is allowing athletes to access a training environment that is creative, engaging and energising, ensuring trust, friendships, community and team spirit to flourish. We work hard to foster happy athletes who grow and develop knowledge, skills and abilities. This means they enjoy their sport and feel successful in their life and sporting achievements.
Get these things right and great performances tend to follow!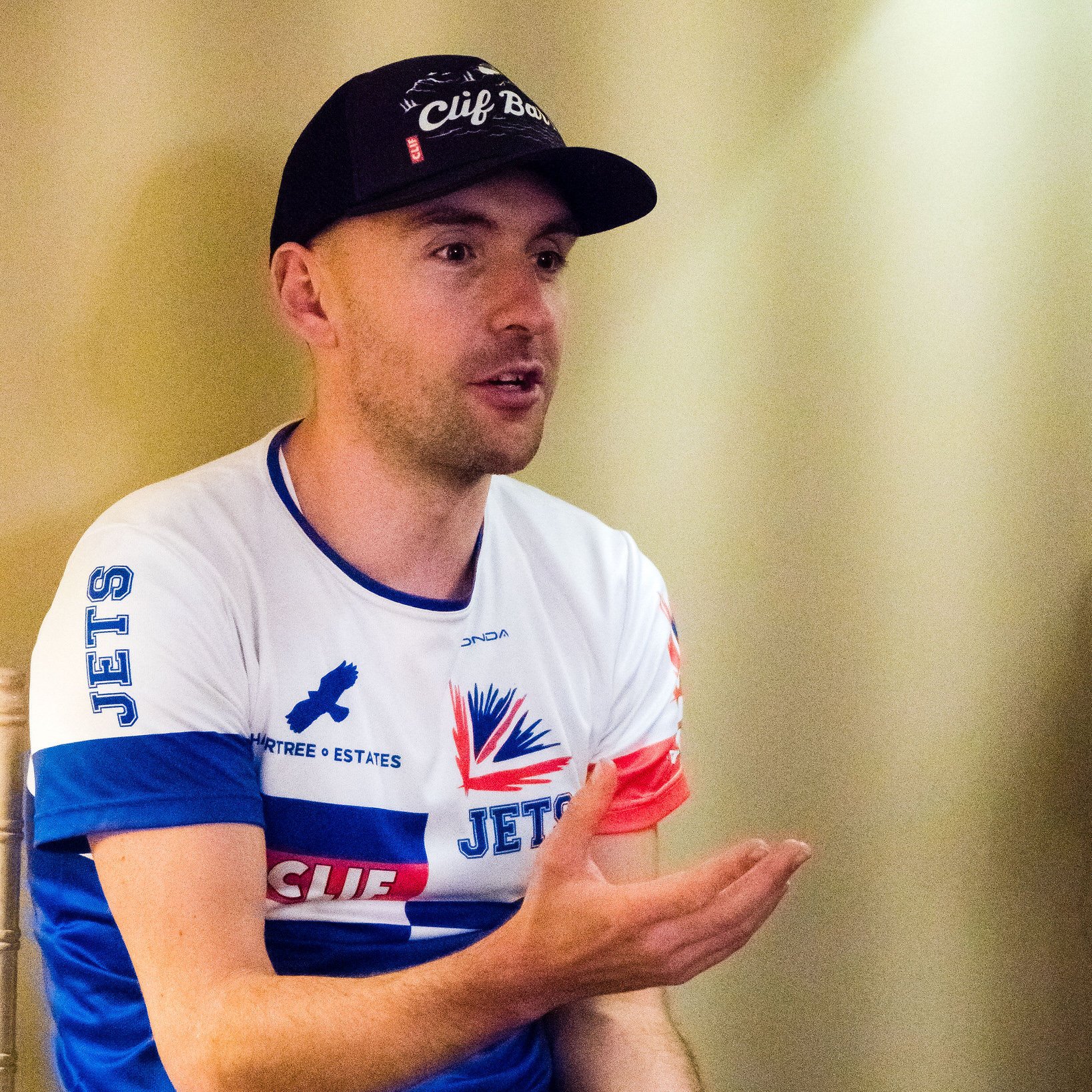 Head Coach – Joel Enoch
Joel is an award-winning coach and GB age-group Triathlete at World and European Championship level for over a decade with a proven capacity to support athletes to be their best. He has completed the British Triathlon High Performance Coaching Programme and has guided 32 athletes to 70 GB age-group performances between 2013-2019.
Prior to the ET Squad, Joel established, built and led the JETS triathlon squad to enormous success with athletes gaining awards and titles at Scottish, British, European and World age group championships.
Joel is a nutritional ambassador for global nutrition brand CLIF Bar, a mentor on the True Athlete Project Mentoring Programme, feature writer and 'Run Expert' for 220 Tri Magazine and has worked as a personal trainer and applied sport scientist from grassroots to elite level.  His passion is helping people to grow, learn and become successful at what they do.
Training
Each week athletes have up to 8 coached sessions available. A further 3 structured sessions are provided online via MySquadPortal (see below).
The training schedule is carefully designed across the year and divided into 4-week blocks.
4-Week Blocks: Using a 4-week structure helps control consistency and progression and breaks the season down into smaller chunks. Throughout the winter and spring, intensity and 'training focus' vary from week to week in each block. Throughout the summer, a more flexible and individual structure is employed to ensure all athletes prepare optimally for races. Recovery weeks and squad breaks are also positioned to allow athletes the rest needed to soak up training stimulus.
Weekly Schedule: Training sessions each week include a combination of swim, bike, run, brick (bike-run combinations) and strength & conditioning (S&C).

Training Venues
Conveniently located in and around central Edinburgh, the Squad trains at the following venues:
Royal Commonwealth Pool – a world-class facility with dedicated 25m lane space for squad sessions and an Olympic standard 50m pool for additional training.
The Crags Centre – a great community sports centre with a studio ideal for those tough turbo sessions. Indoor bike trainers are available for squad use.
Meadows / Arthur's Seat / Calton Hill – a variety of outdoor locations depending on the requirements of the run session. Intervals on the flat and fast meadows, hill reps on the iconic Arthur's Seat or laps of the 800m Calton Hill circuit with stunning views of Edinburgh.
MySquadPortal
MySquadPortal is an online scheduling platform developed exclusively for the squad. It provides an easy to view plan of upcoming training including details for each individual session. It also features a convenient method of confirming attendance and providing feedback to the coaches.
Up to 8 coached sessions and 3 online sessions per week – see '

Training

' for more information.

Regular programme of mentoring and 121 sessions providing an individualised approach for each athlete.

Technique video analysis sessions

WKO training metrics analysis (requires free basic TrainingPeaks account)

Online guides to training

Sports psychology and education sessions

Free ET tri-suit

Online group and individual training plans via 

MySquadPortal

Discounted massage and nutritional profiling

Sponsor

 benefits, for example generous product support from Clif Bar

Squad socials and annual awards evening

Access to all additional ET training sessions and 

membership benefits
Squad members are required to be gold members of ET and pay an additional monthly fee. However, this represents the best value triathlon training currently available with all of the above included in the cost.
Access to 'full' coaching is also available at an additional cost with limited places available.
Is it for me?
The short answer is…yes! Irrespective of your current level, being part of the Squad will undoubtedly help you reach your triathlon goals. This is especially true if you are:
Positive – enthusiastic about the opportunities available
Committed – to training, our team-mates and long-term personal development
Questioning – willing to try new things to get results
Willing to Engage – with a dynamic coach and an annual training process
Excited – about what you can achieve as part of this successful squad
The current squad is made up of friendly, like-minded individuals who train together and support each other to achieve their goals. We come from a variety of sporting backgrounds but we all have a desire to succeed in triathlon – whether it is qualifying for the GB age group team, completing an Ironman or winning the World Championships!
It doesn't matter if you've been doing triathlon for one year or ten…everyone is welcome.
If you're excited about what you could achieve as part of this squad
why not
get in touch?
You're welcome to attend some taster sessions to see what it's all about.