The inspiration for Edinburgh Triathletes came in the early 1980's after Andrew Grant (the bearded fellow in the picture) saw the Hawaii 'Ironman' triathlon on television.
Andrew explains how it all began:
'After watching the 1983 triathlon in Hawaii, I thought I would like to have a bash at that. I had been active in marathon running and have always been a keen cyclist; swam like a stone though. I tried to find a competition but none existed. Being the kind of guy I was, I decided to organise an event – I didn't know how, but was keen.
At the time, I taught at Wester Hailes Education Centre and we had a pool. The head teacher was keen to promote anything that served to increase the profile of the centre and we had a great team of poolside attendants. I scouted around and eventually got info on how to organise an event from the Irish Triathlon Association. However, I did not fully realise what I had to do – there were no organising committees in those days.
About eight months' preparation went into the event: I had to contact police, first aid, communications people, the education committee, roads departments and so on. I even had to draw the competitors' numbers myself. Getting assistance – timekeepers, marshals and admin on the day became horrendous. Eventually, I cajoled three friendly staff, all my family and numerous friends to do the job and got assistance from the soldiers at Redford barracks in exchange for two free places.
The event took place in May 1984 and was a complete success. I continued to organise the event for four years, and was gradually able to get others to assist.
Triathlons were suddenly the thing for active sports people to do and clubs sprang up everywhere in Scotland but the Edinburgh group remained informal. We managed to get use of the pool at Fettes school and we started to 'train' there after a bike bash on Saturday mornings. It was mooted many times that we form a club and this was formalised in 1990."
The photograph shows the winners of the event organised by Andrew in 1984, believed to be the first ever triathlon in Scotland. And the event was reported in the Wester Hailes Sentinel!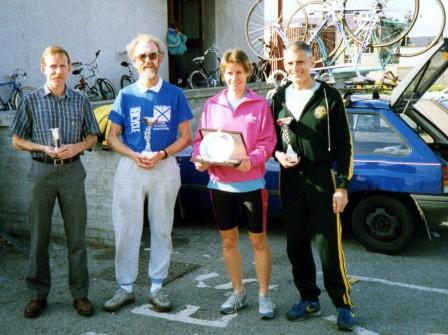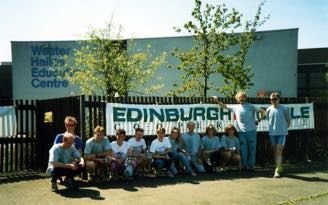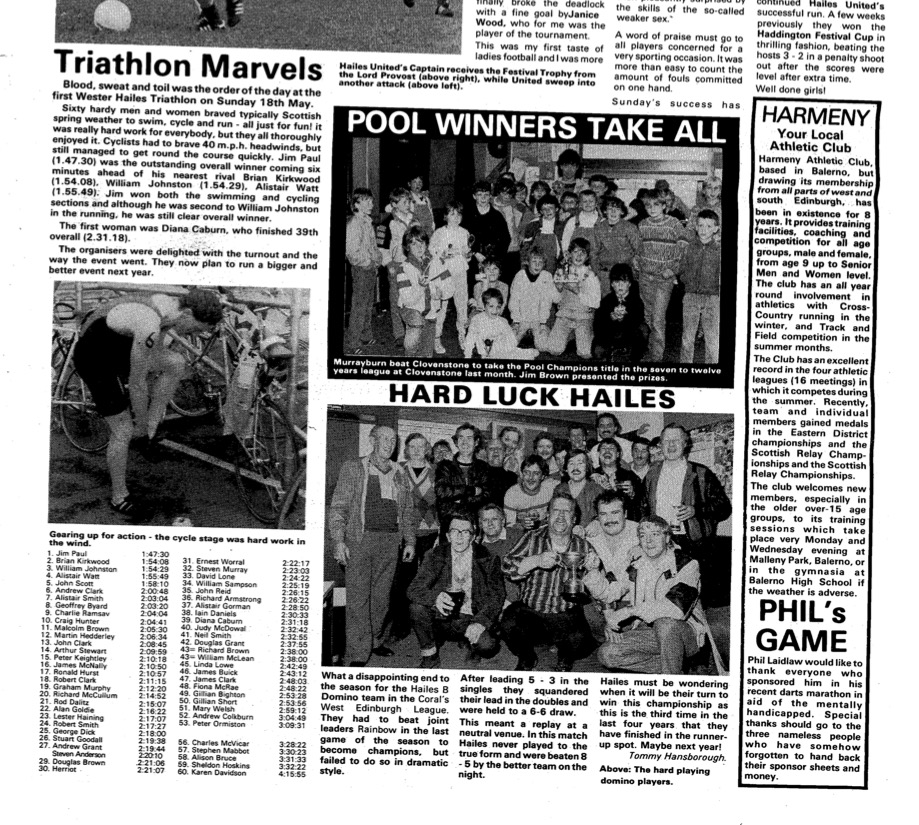 Over the years club members have been recognised through participation at World or European competitions, or though awards:
| Year | Name | Honour |
| --- | --- | --- |
| 2017 | Gavin Calder | President of TriathlonScotland |
| 2016 | Doug MacDonald, Elizabeth Richardson, Eilidh Yates | World /Euro competitors |
| 2015 | Francesca Osowska | OBE for contribution to Commonwealth Games and sport at the Scottish government |
| 2015 | Scott Balfour, Kirsten Cameron, Doug MacDonald, Keira Murray, Phil Parr-Burman, Elizabeth Richardson, Joe Tomaney | World /Euro competitors |
| 2014 | Scott Balfour, Matt Goode, Doug MacDonald, Keira Murray, Joe Tomaney | World /Euro competitors |
| 2013 | Andrew McMenigall | British Triathlon Federation Coach of the Year; Triathlon Scotland Coach of the Year; Edinburgh Sports Awards Community Coach of the Year; Sportscotland / Daily Mail local hero award. |
| 2013 | Scott Balfour, Richard Foxley, Arnott Kidd, Keira Murray, Phil Parr-Burman | World /Euro competitors |
| 2012 | Scott Balfour, Barbara Davis, Keira Murray | World /Euro competitors |
| 2011 | Scott Balfour, Arnott Kidd, Andy Strathdee | World /Euro competitors |
| 2010 | Scott Balfour, Arnott Kidd, Caroline McKay, Fiona Milligan, Phil Parr-Burman, Kirsten Sinclair, Jane Stevenson | World /Euro competitors |
| 2009 | Scott Balfour, Graeme Cox, Craig Dale, Martin Gore, Arnott Kidd, Paul Masterton, Daniel Sims, Andy Strathdee | World /Euro competitors |
| 2008 | Scott Balfour, Angela Kidd, Arnott Kidd, Paul Masterton, Peter Ness, Kirsten Sinclair, Doug Steel | World /Euro competitors |
| 2007 | Scott Balfour, Gavin Calder, Barbara Davis, Arnott Kidd, Paul Masterton, Peter Ness, Gill Pilkington, Kirsten Sinclair, Doug Steel | World /Euro competitors |
| 2006 | Arnott Kidd, Paul Masterton, Peter Ness, Gill Pilkington | World /Euro competitors |
| 2005 | Scott Balfour, Arnott Kidd | World /Euro competitors |
| 2004 | Scott Balfour, Arnott Kidd, Francesca Osowska | World /Euro competitors |
| 2003 | Jason Baggaley, Scott Balfour, Jen Laing, Iain McLaughlin, Francesca Osowska, Gill Pilkington | World /Euro competitors |