We're one of Scotland's largest triathlon clubs with over 200 members of all abilities, from the complete novice to experienced age group world champions. Members participate in all distances from sprint, standard, half and full ironman as well as aquathlons, adventure races and off road MTB endurance events.
We understand that it can be a daunting experience turning up to a training session and trying to find out everything from scratch, particularly if you are a 'beginner' in one or more of the swim/bike/run activities. We've all been a newcomer at some point so at Edinburgh triathletes you'll find that we're a friendly bunch with common interests in triathlon, swimming, cycling or running and you'll be warmly welcomed.
All our sessions cater for beginners, so the best thing to do is just come along and try a few sessions out! Just contact us so we can arrange a suitable session and come along a few minutes earlier to introduce yourself to the coach. You'll be advised where to go and what to do, depending on your level.
Most of our sessions are free to members but there are various additional activities for those who are keen. These include indoor spin sessions during the winter months and occasional weekend training trips which are a great chance to get to know other club members.
All club training sessions are booked and coordinated using the Spond app. This is a convenient way to manage group numbers and ensure everyone is up to date. If you are thinking of joining the club and would like to come and try a session just get in touch using the contact form and we'll get back to you as soon as we can.
If you're interested in joining the club, all the details can be found on the membership page.
The inspiration for Edinburgh Triathletes came in the early 1980s after Andrew Grant (the bearded fellow in the picture) saw the Hawaii 'Ironman' triathlon on television.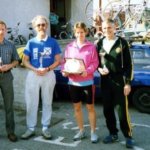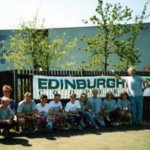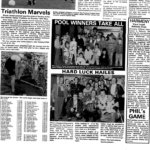 Andrew explains how it all began:
'After watching the 1983 triathlon in Hawaii, I thought I would like to have a bash at that. I had been active in marathon running and have always been a keen cyclist; swam like a stone though. I tried to find a competition but none existed. Being the kind of guy I was, I decided to organise an event – I didn't know how, but was keen.
At the time, I taught at Wester Hailes Education Centre and we had a pool. The head teacher was keen to promote anything that served to increase the profile of the centre and we had a great team of poolside attendants. I scouted around and eventually got info on how to organise an event from the Irish Triathlon Association. However, I did not fully realise what I had to do – there were no organising committees in those days.
About eight months' preparation went into the event: I had to contact police, first aid, communications people, the education committee, roads departments and so on. I even had to draw the competitors' numbers myself. Getting assistance – timekeepers, marshals and admin on the day became horrendous. Eventually, I cajoled three friendly staff, all my family and numerous friends to do the job and got assistance from the soldiers at Redford barracks in exchange for two free places.
The event took place in May 1984 and was a complete success. I continued to organise the event for four years, and was gradually able to get others to assist.
Triathlons were suddenly the thing for active sports people to do and clubs sprang up everywhere in Scotland but the Edinburgh group remained informal. We managed to get use of the pool at Fettes school and we started to 'train' there after a bike bash on Saturday mornings. It was mooted many times that we form a club and this was formalised in 1990."
The photograph shows the winners of the event organised by Andrew in 1984, believed to be the first ever triathlon in Scotland. And the event was reported in the Wester Hailes Sentinel!